Shopping Basket
Your Basket is Empty
There was an error with PayPal
Click here to try again
Thank you for your business!
You should receive an order confirmation from Paypal shortly.
Exit Shopping Basket
Matishak Financial Services

"We are always helping you to understand, secure and improve your financial position."
| | |
| --- | --- |
| Posted on 21 March, 2020 at 20:00 | |
The Pandemic associated with Covid-19 is laying waste to our social and financial systems. We are in uncharted waters as we try to solve the crisis without tanking the economy. What can we do? Here is my list of the things we can each do to help flatten the curve while maintaining our collective sanity: 

Observe the public health directives - maintain social distance, self quarantine, wash your hands regularly and properly
Take care of yourself - continue to exercise, eat properly, catch up on your sleep 
Establish routine in your daily life - if you are working at your job from home, keep a schedule as much as your home situation allows. If you have recently been laid off, network with your associates and craft a plan for what you will do once it is over or subsides -continue to make plans for the future
Self improvement - here is an opportunity to catch up on things you have been putting off - read some books, learn a new language, start an online business, organize your household, tinker on that classic in your garage
Check in frequently and regularly with all the important people in your life - don't distance yourself more than you have to from the ones closest to you. 

We will get through this. Let's be thankful for what we have and pray that our leaders have the wisdom and courage to do what is required. In the meantime, let's all listen to some tunes from a simpler time..... https://music.apple.com/nz/album/three-little-birds/1487507231?i=1487507253
| | |
| --- | --- |
| Posted on 19 January, 2018 at 1:15 | |
On January 17, 2018, the Bank of Canada hiked its overnight rate by 25bps to 1.25 percent, which was  in line with market expectations. Policymakers said that recent data has been strong, inflation is close to target, and the economy is operating roughly at capacity but noticed that uncertainty surrounding the future of NAFTA is clouding the economic outlook.
Please see below Bank of Canada Interest rate changes over the past 5 years: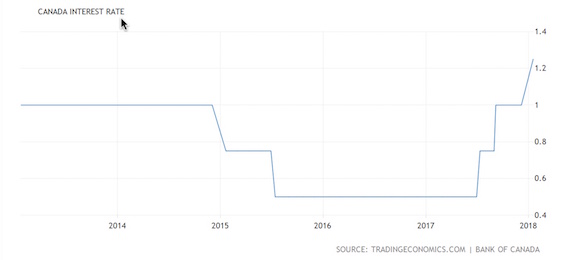 Note that the Bank of Canada rate is now the highest it has  been in the past 5 years.  Major Canadian banks anticipated this increase and increased their prime lending rates in the week leading up to the Bank of Canada announcement.  The last time rates were higher was just before the onset of the financial crisis in 2008/9. Uncertainty with NAFTA negotiations, the divergent move in Canadian income  tax policy vs our US counterparts and continued pipeline bottlenecks for Canadian oil & gas producers all likely will lead to increased upward pressure on rates as Canada strives to stay competitive with more favorable returns to capital elsewhere.  
If you are worried about how the recent changes to interest rates might affect your bottom line, give us a call and we would be happy to review your credit and lending agreements with a view to recommending actions you can take now to protect your business against future increases in interest rates.  Call me at 403 618 5870 or email me by pressing the send message button at the bottom of this blog.
| | |
| --- | --- |
| Posted on 19 January, 2018 at 0:25 | |
The private company tax changes originally proposed during the summer of 2017 by Bill Morneau and the subsequent amendments that were issued in December, just in time for the Christmas season, were among the more controversial actions carried out by the Federal Liberals in 2017. These proposals sought to make changes that would impact the taxation of the following:
• Income sprinkling - i.e, the practice of allocating private company shares among family members so as to lower the overall family tax burden on dividends distributed and gains realized, the proposals sought to only allow shares to be held by family members who contributed significantly to the business and a reasonableness test would be applied by CRA based on actual capital and labour contributed.
• Holding a passive investment portfolio inside a private corporation - the original proposals sought to "further tax" this undistributed surplus, with some  tax practitioners estimating that the total flow through impact to marginal tax rates could be as high as 73%.  Another way of looking at this involves the "apple pie scenario".  Imagine for a moment that you have worked very hard all week long to get all the ingredients together and you have baked the most perfect apple pie.  Not wanting to consume the pie alone, you decide to invite your neighbour, you know, the one that borrows things and never returns them.  You take out the pie, cut it in half and then in quarters.  You put 1/2 of the pie back in the fridge to save for some date in the future.  You and your friend both sit down and consume your portion of the pie and you both comment as to how good it was. At that precise moment, your phone rings and you get called away on a very important business issue.  When you come back from solving the crisis, you see that your neighbour has helped himself to the rest of the pie that you had saved in the fridge for the future.  In all likelihood, you would have invited your neighbour back for the rest of the pie.  You see, the passive investment portfolio proposals are like the "apple pie scenario" as the Finance department wants 3/4 of the pie now and not the 50% it used to get over time - "this is not fair".
•  One feature of Canada's private company tax system is the concept of integration, which means that income should ultimately be taxed at the same rate whether it is earned in a corporation or received personally.  The dividend tax credit system seeks to give credit to an individual tax payer for income taxes already paid at the corporate level.  The integration concept does not take account of the time value of money. Hence, to the extent that tax paid surplus remains undistributed inside a private company, this capital would be available for reinvestment in the business, held as a cushion for economic contraction or invested in other ventures.  Finance states that there is no tax provision to align the earnings available to fund the passive investment within the corporation with the after tax amount that would be available to the individual if such income was earned individually.   As a result, the use of a corporation results in a greater amount of funds being available for passive investment or savings.  In other words, "It's just not fair". 
• Capital gains - To address income sprinkling by multiplying the lifetime capital gains exemption across multiple family members, Finance proposed to no longer allow individuals to qualify for the exemption for capital gains that are realized, or that accrue, before the taxation year in which the individual turns 18. Further, gains that accrued during the time that property was held by a trust would generally no longer be eligible for the exemption, subject to certain exceptions (including for spousal or common-law partner trusts, alter ego trusts and certain employee share ownership trusts). In addition, the capital gains exemption would generally not apply to the extent that a taxable capital gain from the disposition of property is included in an individual's split income.
The Canadian Standing Senate Committee on National Finance ("the CSSCNF") shared the same views of many individuals and business groups who spoke out about the proposals and recommended that the proposed amendments needed more work, and, at a minimum, the implementation should be delayed for at least one year.  The full report of the CSSCNF can be accessed from the link below:
https://sencanada.ca/content/sen/committee/421/NFFN/Reports/NFFN_Tax_Planning_24th_Report_e.pdf
In October of 2017, Finance reported the following:
• Finance Minister Bill Morneau confirmed that the government will "move forward with measures to limit the tax deferral opportunities related to passive investments" but added that $50,000 of passive income annually will be exempt.
• The proposals in respect of Capital gains were dropped Despite the recommendations in the CSSCNF report, amended proposals were tabled on December 13th, 2017 as follows:
• The proposed Income sprinkling rules were retained but additional details were provided as to how the reasonableness tests would operate so as to exclude certain scenarios from being subject to the Tax on Split Income ("TOSI").  However, there were no exclusion provisions for companies considered to be service companies or professional corporations, hence, the TOSI will be applied at top marginal rates to income or gains received from those entities.
In light of the above changes, if you have family members who are also shareholders in your private business, your current tax planning may expose your family unit to additional taxation.  We can talk to you in general about the changes and calculate what the impact could be.  More importantly, we can help manage the process of updating and implementing a new tax plan.  Please call me at 403 618 5870 to discuss.
/